2013 write-up

13 hours and 8 minutes to cover 205km … that's how long it took Phil Simcock to complete the 2013 BB 200. That's an average speed of over 15 kilometers per hour. If you take into account the sections of the route that require pushing, carrying and walking, then that average becomes very, very impressive.
57 riders made it to the start and by 10.01am they were away. Some knew exactly what lay ahead but for others what faced them around the next turn or over the next hill was a complete mystery. The reversed route provided a fast start but ultimately led to a near soul destroying series of climbs (lets be honest, they're pushes) in the last 20km. The promise of a coveted black badge for anyone completing the route within 24h seemed to spur riders on more than ever. For many, that meant minimising kit to the lowest level possible, foregoing cafes, shops or pubs and developing a highly thought out strategy. Some riders chose to push hard early on and take a break in the night to recharge with a few hours sleep, others knew their best chance of a finish would be aided by a slow and steady approach but the majority simply opted for riding for as long as they could, as fast as they could and just hoping that they could outrun the 'sleep monster' long enough to make the finish.


photo © Taylor
By 10.0am on Sunday morning there were 32 bleary eyed riders back, all clutching black badges and sandwiches the size of footballs. In 2011 the number returning within 24h was just 2, the following year that figure rose to 13. I think most people expected another increase this year but I'm not sure anyone believed it would be quite so many. With all the talk of black badges and sub 24h finish times it's easy to forget that the BB 200 isn't a 24 hour event. It's a time trial, so while you're trying to cover the ground as quickly as you can, the real goal is to finish regardless of how long it takes … the last riders in arrived back at 2.25am Monday, that's over 27 hours after Phil Simcock rolled in but a finish is a finish, so congratulations to everyone who made it back.

Bear Bones 200 2014


The 2014 BB 200 will take place over the weekend of October 11th / 12th. A new route is in the planning stages and is set to be a cracker … remember, we won't be happy until you're not happy!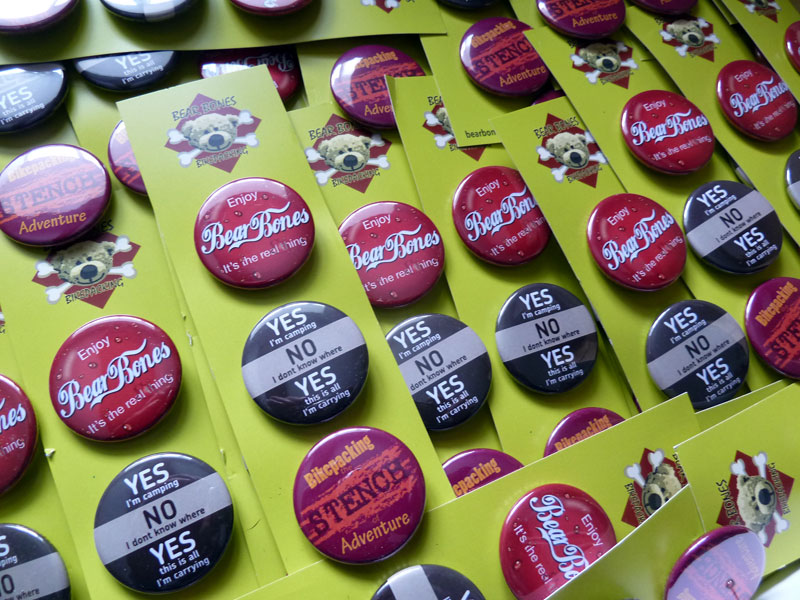 Each entrant will be given a gpx file of the route, so a GPS will be advantageous although not mandatory. For those who complete the challenge in under 24 hours, a black badge is awarded, 24 - 28 hours receive a blue badge, all other finishers get a green badge of honour.


If we haven't answered your question below, ring 01650 521301, email us or ask on the forum
Q

Can I ride in a group?

A

Yes but remember a group tends to ride
slower than an individual.

Q

What happens if I get lost?

A

You'll have to get un-lost.

Q

Is there a time limit I have to complete within?

A

No, but if you think that under 30 hours is beyond your riding capability, then this isn't the event for you.

Q

Do I have to carry certain items?

A

Yes, there's a basic mandatory kit list that everyone must carry:
• Sleeping bag
• Bivvy bag, tent or tarp
• F & R lights
• Mobile phone

Q

Can I buy things along the way?

A

You can buy food/supplies from any commercial outlet
so long as it's available to every rider.

Q

Can I 'stash' things along the route before the start or can someone meet me with spare clothes, food, etc?

A

No!

Q

Do I have to use a GPS?

A

A GPS would certainly be an advantage but you don't have to use one.